How to Choose Adhesive Bra
Do you wish you could wear a cute halter top or v-neck but can't hide those bra straps? What about a sexy, backless dress? Maybe you're just tired of how your bra feels.
If traditional bras are getting in your way, consider adhesive bras. Buying a new bra is easier said than done, right?
With 85% of women wearing the wrong size bra, how can you find your best adhesive bra? Keep reading to find out how to choose an adhesive bra.
How to Choose an Adhesive Bra
The best adhesive bra for you depends on your size, support needs, and situation. What kind of function will you be attending? Do you need support over coverage?
Once you've determined the style you need, prioritize bra size. If you're going back and forth between two sizes, select the bigger option. It's better to have a little space in there than accidentally slip out.
Helpful Tools
Taking measurements will help you get a better idea of what size adhesive bra will fit you best. Start with a flexible tape measure. Your measurements will be most accurate if someone helps you out.
To measure snug underbust, wrap the tape measure around your rib cage, directly underneath your breasts. Next, bend at the waist so you're making a 90-degree angle with your body. Wrap the tape measure around the largest part of your bust and around your back to find your leaning bust measurements.
Repeat this process while standing upright and lying down to find standing bust and lying bust measurements.  If you can't get your exact measurements, check out a size chart for some guidance.
Sweet Silicone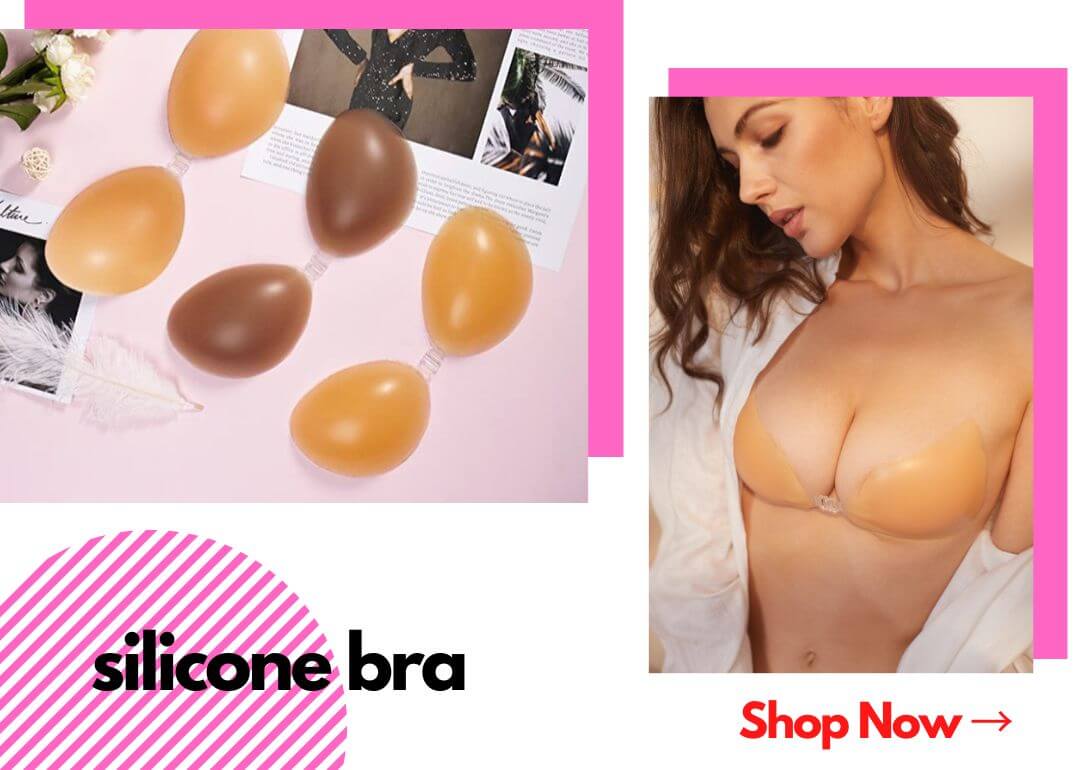 If you're looking for a supportive yet undetectable solution, consider silicone.
Silicone adhesive bras look and feel natural because of their skin-like texture. You can even match your skin tone just in case part of it shows. For an added lift or cleavage, grab a silicone adhesive bra that clasps together in front.
Silicone doesn't absorb moisture as other materials might. If you're planning a trip to the beach or water park, choose an adhesive bra made from silicone.
Fun and Functional Fabric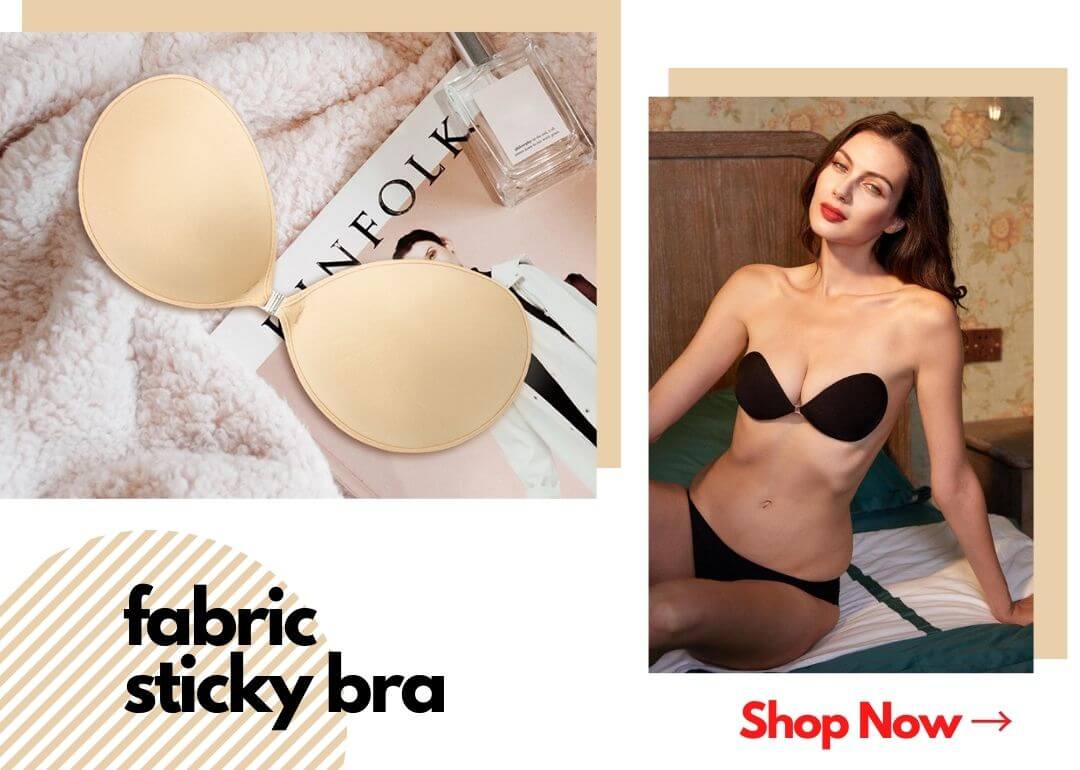 Made from lycra and foam, fabric adhesive bras are a great option when you don't want the silicone look/feel. These bras still have silicone adhesive on the inside to support the ladies.
Silk fabrics or sheer textures may get stick to silicone material, but not fabric.
Breathable Is Beautiful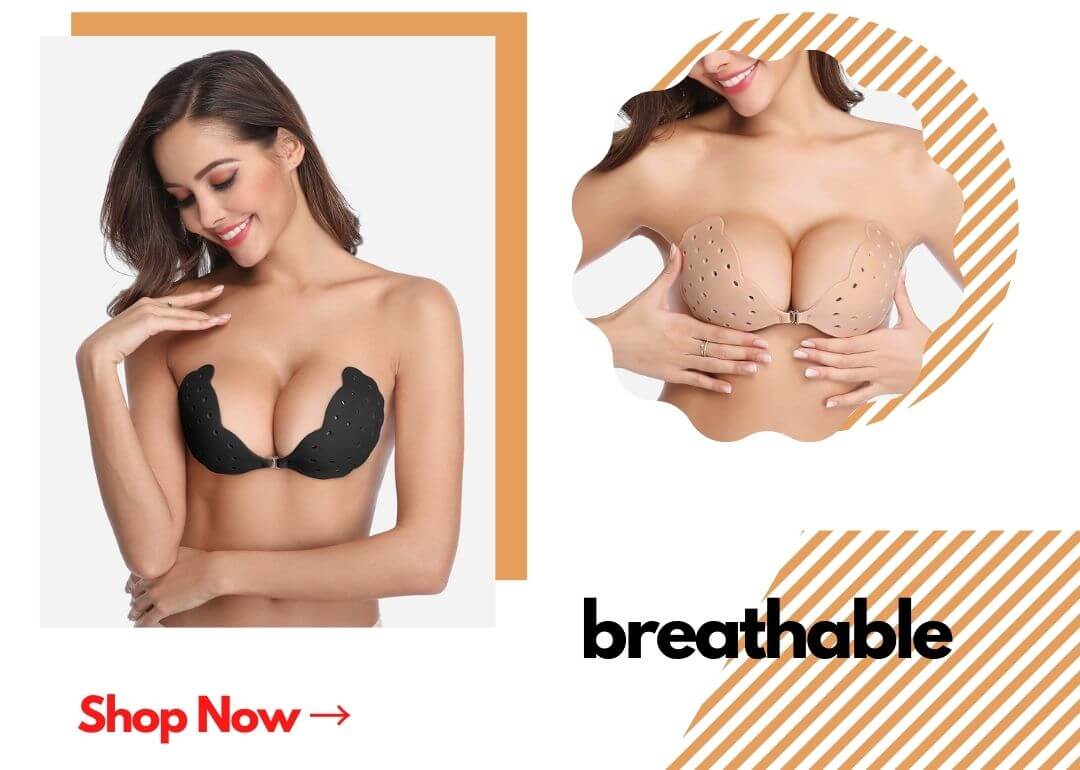 If you're going to be dancing the night away, things could get hot.  A breathable fabric bra might be the perfect solution. These lovely little lifters have strategically placed holes within the fabric.
More breathability means you can stay dry and comfy. These adhesive bras also clasp in front to give support, shape, comfort, and breathability.
Love The Lift?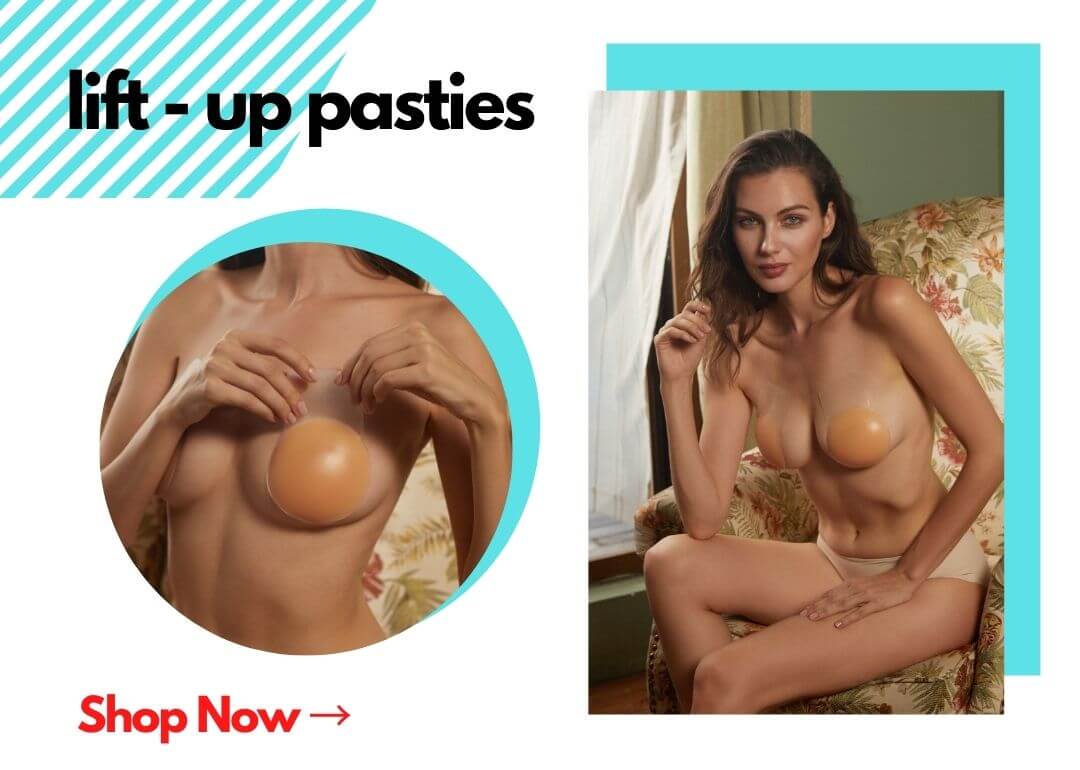 Not loving the idea of more cleavage? Maybe you just need a little lift. No problem!
Lift-up pasties can give you the lift and discretion you want from an adhesive bra. These are perfect for those plunging necklines you want to wear. There's no clasp in the middle.
These medical-grade adhesive pasties stay on your breast while lifting. Just place them where you're most comfortable and these silicone sweethearts will stay put. So, go ahead and wow in that deep V-neck dress!
Nearly Naked? Nope!
Pasties are great for those who just want to cover the little middle area.
If you're looking for support, keep on browsing. These won't offer any additional lift or shape. They cover what you want to be covered and leave the rest to mother nature.
Silicone Circles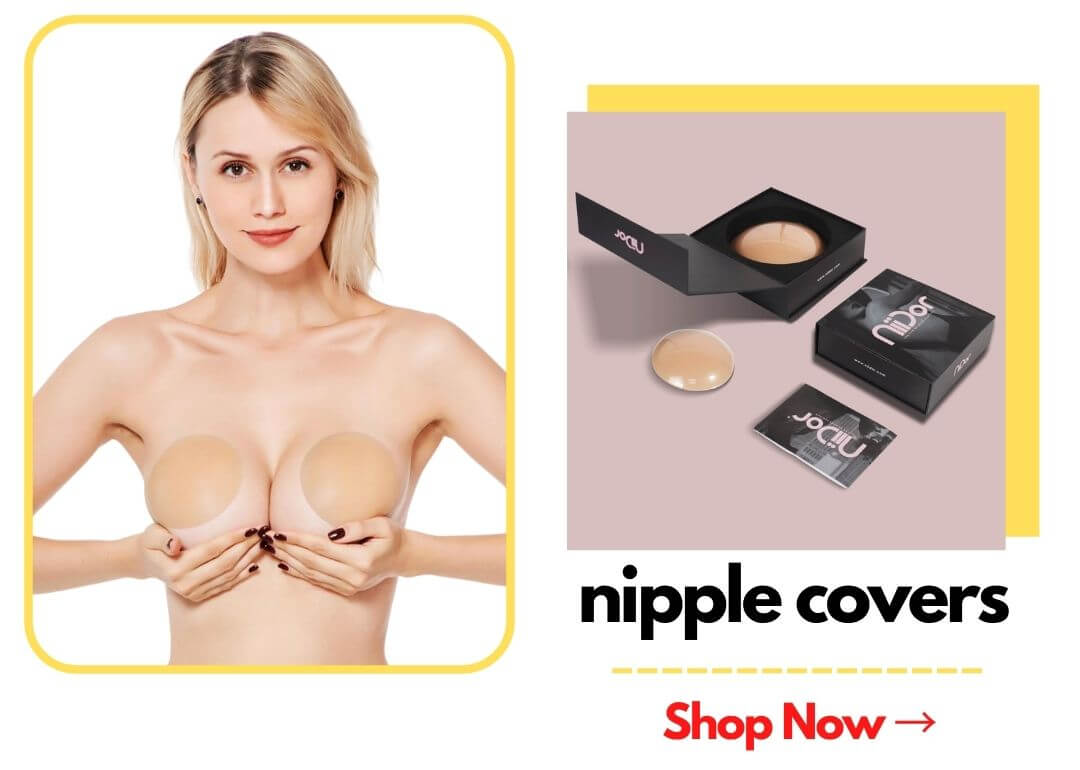 Round and tidy, these reusable nipple covers are made of silicone inside and outside. Their skin-type material makes them difficult to detect. They also handle water and moisture better than fabrics.
To get more bang for your buck, consider buying a pack of reusable nipple covers. These ones have a matte finish and can be washed and reused up to 50 times.
Some silicone stick-on pasties have semi-transparent edges. This helps to blend the look with your natural skin. If you're worried about a particularly revealing ensemble slip, you may want to check these out.
Bunny Ears
These nipple covers are designed to give a slight lift. They cover the nipples and have a bunny-eared design. The wearer decides how much lift (and where) to stick the ears.
The outside of these covers is made from fabric while the inside is a gentle, medical-grade adhesive and silicone. Stick these on and bunny hop around all day and night!
Totally Taped Up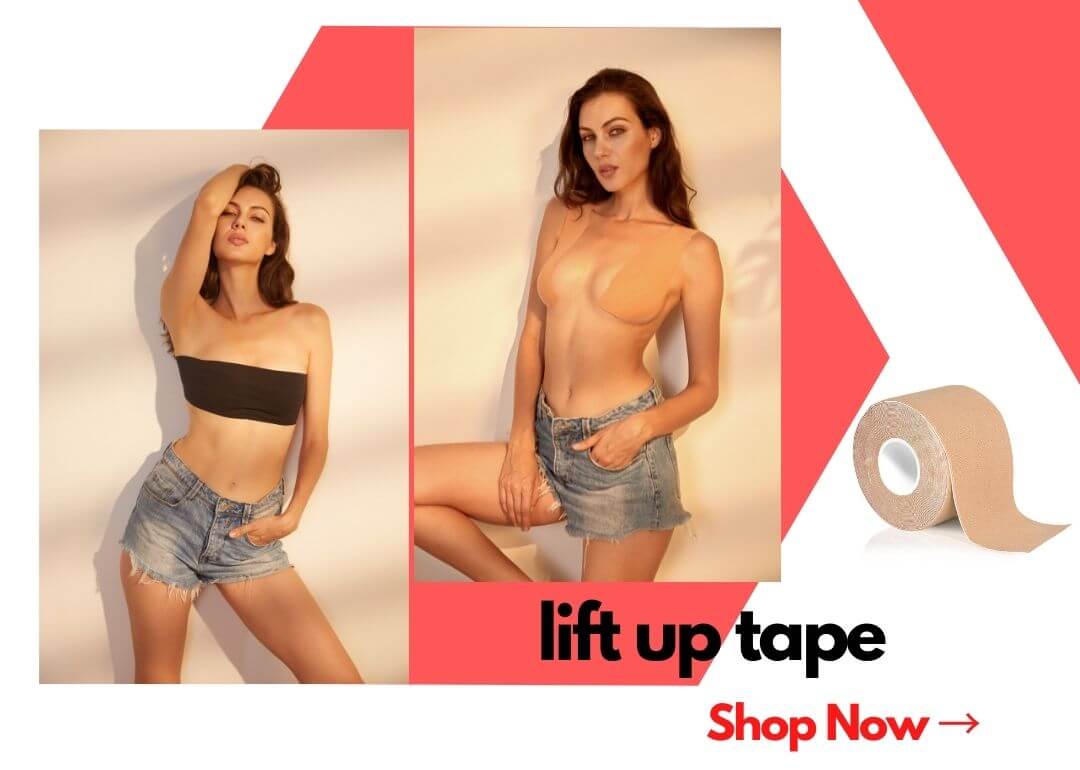 Do you need a lift for that plunging neckline? No worries, you can always stick 'em up with some breast lift tape. This tape wins the award for the best adhesive bra for personalization.
It is made from breathable cotton material with strategically placed holes to let the girls breathe. Because it comes in a roll, like duct tape or packing tape, you cut it to the shape and size you need.
Breast lift tape is sweat and moisture resistant. Ladies who need more support may prefer breast lift tape to other adhesive bras. Drop a roll in your purse and party away.
While convenient and customizable, breast lift tape is not reusable.
Make Your Adhesive Bras Last
Now you know how to choose an adhesive bra. How can you make your investment last?
Always follow cleaning and washing instructions carefully. Many adhesive bras are only reusable if you properly wash, dry, and store them. Never put them in a washing machine or dryer.
Adhesive bras can make it possible for women to wear what they want with confidence. By providing support and coverage, adhesive bras are a safe and effective under-the-radar alternative to strapless or traditional bras.
At Niidor, we believe all women deserve to feel beautiful and supported. We make safe and functional bras for every gorgeous. Browse our bras only inventory to find your best fit.
Questions or comments about our products? We'd love to hear from you. Send us a message today. 
Related Contents:
WHY DO YOU NEED AN ADHESIVE BRA?
HOW TO MEASURE FOR A BRA THAT FITS?
HOW TO PUT ON AN ADHESIVE BRA: THE ULTIMATE GUIDE